A global pandemic & recent severe weather occurrences have had many searching for the perfect generator to not only keep the lights on but provide peace of mind. It appears that Harbor Freight is listening as, over the past few years, they have invested in the continued growth of their Predator Generator line. This investment continues in 2021, with the phasing out of a few older models and the release of 5 new predator generators.
If you're considering purchasing a generator and the price is of concern, you may want to take a look at these new machines.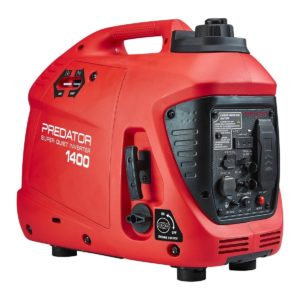 Predator Inverter Generator 1400 (New for 2021) SKU#57063 $429.99

1400 Surge Watts / 1100 Running Watts
60.4 Db(a)
33 lbs Weight
54 CC Gas Engine 1.88 hp
7.3 Hours Runtime at Quarter (1/4) load
Electronic Speed Control
Pure Sine Wave
CO Secure (shuts down when high levels of carbon monoxide are detected)
Output: 120v – (2) 20amp (2) 5v USB 1 12v DC Charging
Parallel Kit Available Soon (pair with another 1400 for twice the power)
Overload Protection
Comparable Generator – Honda eu1000 – For about 100.00 more you can step up to the Predator 2000w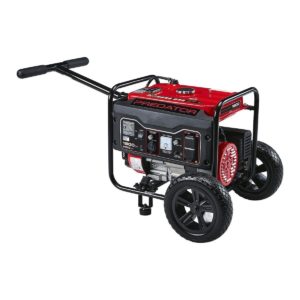 Predator Generator 1800w – NOT Inverter (2021) SKU#57064 – $279.99

1800 Surge Watts / 1400 Watt Running
98cc Gas Engine
60lbs Weight
2.6 HP
CO Secure (shuts down when high levels of carbon monoxide are detected)
Built in Fuel Guage
Low oil indicator / low oil shutdown
(2) 120v 20a Outlers, (1) 12v DC Outlet
Outlet covers
9.5 hours runtime @ 50% load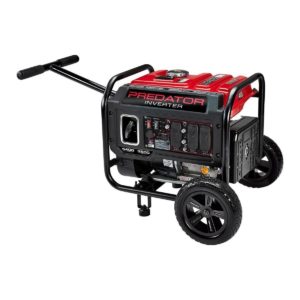 Predator Open Frame Inverter Generator – 4400 watts (2021) SKU#58067 – $599.99

4400 Surge Watts / 3500 running watts / 67db(a)
16 hours runtime 1/4 load
67 db(a)
Heavy duty steel frame and covered GFCI Outlets
Electronic Speed Control mode
Integrated Fuel Guage
CO Secure (shuts down when high levels of carbon monoxide are detected)
Low Oil, overload and output light indicators
77lbs
RV adapter Included
(4) 120v 20a GFCI Protected Outlets, 120v/30a Twistlock, 2 USB Ports
Parallel Ports to Connect two 4400w Gen Sets to Double Power Output
Compared to Honda EG2800i
Note: There are two part numbers for this 58067 & 57509 – The only difference I could see is under certifications one is EPA III and CARB and one is CARB Both are same price.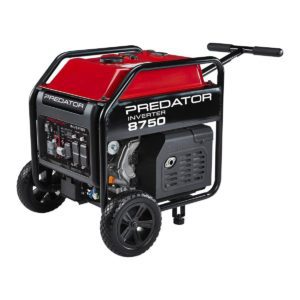 Predator Open Frame Inverter Generator – 8750 watts (2021) SKU#57480 $1,199.99

8750w Surge / 7000 Running Watts
15 Hours at 1/4 load
151lbs weight
420cc Gas Engine
Pure Sine Wave
25% Lighter compared to Predator 9000
GFCI Protection OSHA Compliant
Output: 120v/220v
Electric Start with Recoil Backup – Battery Included
Lighted Indicators for output, low oil and overload
CO Secure (shuts down when high levels of carbon monoxide are detected)
Includes large 10in. flat-free wheels and folding handle for portability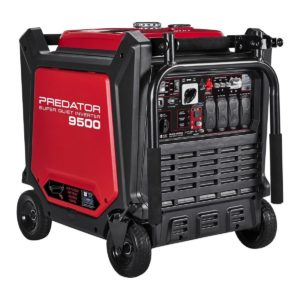 Predator Inverter Generator 9500 Watt (New for 2021) – SKU#57080 – $1798.00 

9500 Surge Watts / 7600 Running Watts
67db(A)
459cc Gas Engine
253 lbs
CO Secure (shuts down when high levels of carbon monoxide are detected)
18 Hours Runtime @ 1/4 load or 25%
Electric Start 12v Battery Included
Wheels and Handle Included
OSHA Compliant GFCI Protection
Speed Control
Output 4 GFCI Protected 120v 20amp Outlets – 120/240v 30 amp Twistlock / 120v 30a Twistlock
12v 8amp DC, 2 5v USB
Size 31L x 28.9H x 23.75w
Comparable Generators – Honda eu7000is – $5,000.00 usd.
These two generators seem to be the most popular choices and seem to be, for the most part, reliable options. Many compare them to the tried and true Honda eu2000/eu2200 and the eu3000is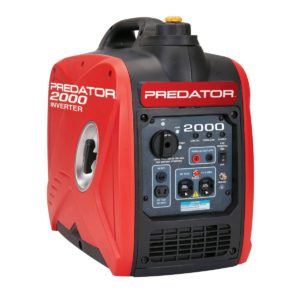 Predator 2000 Inverter Generator – $549.99 – SKU#62523

2000 Surge Watts / 1600 Running Watts
65db(a)
12 Hour Runtime @ 1/4 load
79.9cc Air Cooled OHV Gas Engine
47lbs Weight
3 Receptacles
Parallel Capability (ad second unit to double your power)
Low oil indicator
Recoil Start
Compared to the Honda eu2000 | Replaced Current Model Honda eu2200i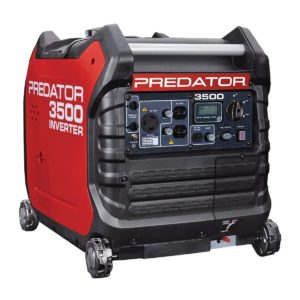 Predator 3500 Inverter Generator – $849.99 – SKU#63584

11 Hour Runtime @ 1/4 Load
57db (a)
Overload Protection
212cc Air Cooled OHV Gas Engine
3500 Starting Watts, 3000 Running Watts
LCD Screen
Smooth Rolling Casters (wheels)
4 Receptacles
(2) 120v Grounded Outelets, (1) 120v Twistlock Outlet, (1) DC-12v 2 Pin Outlet
Electric Start + Battery Included
RV 30amp Adapter Included
99.2 lbs
90 Day Warranty Defects & Workmanship / 2 Years Emission Controls
The Predator 3500 is available at Harbor Freight – Compare it to the Honda eu3000is at $2099.00 usd. – As a note it appears that all Generators from Harbor Freight are subject to a 20% restocking fee if returned.
I will continue to update this page as more information becomes available.
https://nickpixel.tv/wp-content/uploads/2021/04/new_predator_inverter_generators_hf2021.jpg
1080
1920
NickPixelTV
https://nickpixel.tv/wp-content/uploads/2020/04/nick-pixel-logo-dark.svg
NickPixelTV
2021-04-07 08:04:33
2021-04-08 05:17:13
New Predator Generators at Harbor Freight – 2021